Pain Relief With Amsterdam Doctor of Chiropractic
Recover From Injury at Amsterdam Chiropractic
TRANSLATE THIS PAGE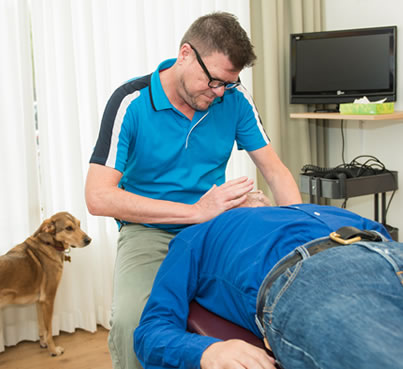 Amsterdam Doctor of Chiropractic J.G. Drewry provides the practice members of Amsterdam Chiropractic with cutting-edge pain relief and traumatic injury care, complemented by advanced treatment options for those experiencing extremity problems. He has a reputation for excellence in meeting the needs of those suffering from the aftereffects of automobile accidents, sports injury, falls, broken bones and physical altercation — either recent or past.
Your Caring Partner in Health and Healing
Dr. Drewry partners with his patients in helping them to achieve the level of health and healing they desire. He welcomes people of all ages and from all walks of life, from children and moms-to-be to sports enthusiasts and aging seniors. He has a particular affinity, however, for those, through no fault of their own, who cannot find a solution to an ongoing problem. Rest assured that Dr. Drewry understands the frustration, disappointment, confusion and hopelessness that can accompany a search for pain relief that often yields no results. It is time-consuming, costly and soul-crushing to go from doctor to doctor to only hear the same refrain:
There doesn't seem to be anything wrong.
You'll have to learn to live with it.
There's nothing more that can be done.
Let's try a stronger medication.
Dr. Drewry is very familiar with this journey. Years ago, he was on a similar path to healing his damaged body after a skiing accident. When he finally discovered chiropractic, his pain ended, and recovery became a reality, rather than just a dream.
Advanced Training Makes All the Difference
Empathizing with your pain, Dr. Drewry wants to do everything he can to help. Because of his own experience, he has made it his life's mission to help others who are suffering. This passion has led to extensive training in state-of-the-art techniques that not only work, but provide certainty, precision and confidence in diagnosis and treatment. His advanced training includes
Certification in Applied Kinesiology (100 hours of intensive coursework)
Certification in Injury Recall Technique (IRT)
National board certification as a Doctor of Chiropractic
Dr. Drewry has the tools and expertise to make a difference. The practice's unique offerings help people to enjoy life again, doing the things that make them happy. He would like to have the opportunity to help you. Please contact the practice today for a same-day appointment; your treatment can start right away!